This is a little late; I'm sure most resolutions have already been tossed aside. If that's true for you (personally, I don't even bother), maybe it's time for a new approach.
The Sunday, January 8, 2023 issue of the Dayton Daily News explained one such approach. Columnist Meredith Moss wrote about a woman in Centerville, Ohio (my current hometown!) who is known as "The Kindness Lady." This title was earned by starting a local version of the Acknowledging Acts Of Kindness Club (https://aaokclub.org/), a Florida-based organization whose purpose is to "Recognize and reward those who have gone above and beyond in showing kindness to others," usually by handing out "Kindness Cards."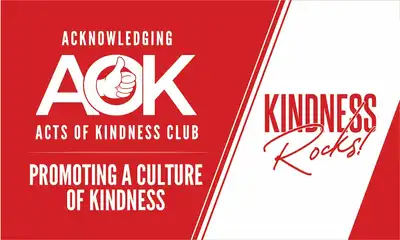 So what does this have to do with New Year's resolutions? The Kindness Lady has some life-changing suggestions. For example —
— Make a family project to collect coins from now until February 13. Put the coins in a jar and donate it to a person or charity on Valentine's Day.
— When you are able to go for a walk, take a plastic bag with you and if you see any litter, just pick it up.
— Make a Valentine for your mail carrier, garbage men and newspaper delivery person.
— If you belong to Costco or Sam's Club, consider asking friends or neighbors if they would like to split the price of bulk items. That can be especially helpful to a family or couple who do not belong.
I hope that gives you some idea of what the Acknowledging Acts Of Kindness Club, and The Kindness Lady, are all about. Her ideas would make great resolutions for the next new year. Or better yet, why not start right now?
The complete column with more ideas is on the Dayton Daily News website at https://www.daytondailynews.com/what-to-know/centerville-woman-has-an-idea-for-your-new-years-resolutions-try-more-acts-of-kindness/PNXQYGRF5ZGWFGA4ABVOELJ5LI/.