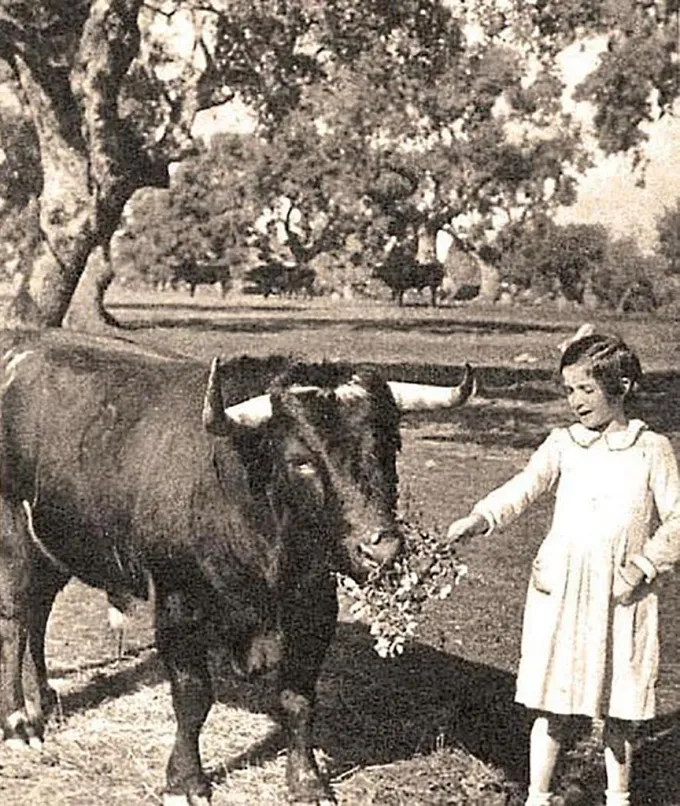 In 1938, Walt Disney released a cartoon entitled Ferdinand the Bull, about a passive bovine who only wanted to sit and smell flowers. When he is mistaken for a feisty animal after being stung by a bee and taken to the bullring, he refuses to fight and is ultimately returned to the countryside.
This film was actually based on the children's book The Story of Ferdinand by Munro Leaf and illustrated by Robert Lawson. It became one of the most beloved children's books of all time, translated into sixty languages, and it even won Disney an Academy Award.
But, just like Winnie the Pooh was based on a real bear, Ferdinand was based on a real bull. One morning in mid-1930s Spain, rancher Don Juan Cobaleda was chagrined to see his seven-year-old daughter petting and feeding flowers to the bull he was breeding for bullfighting. Soon other children were flocking to feed flowers to Civilón ("Large Civilian"). His photographs soon began appearing in Spanish newspapers.
When Civilón entered Barcelona's bullring in late spring of 1936, the stadium was packed with people to see how this gentle animal would behave. After being stabbed by the picadors, his reaction was the usual ferocious charge to drive them behind the barricade. But when he heard Don Juan Cobaleda's voice from the side of the arena, Civilón trotted over and leaned in to be petted. When the matador approached him with the sword, the stadium erupted with cries of un indulto, or pardon. The pardon was granted, and Civilón was allowed to recover and prepare for a return to the pasture.
Unfortunately, that's as far as the happy ending goes. In mid-July, the Spanish Civil War began in full force and Civilón was killed for food by General Francisco Franco's militiamen before he could be removed from Barcelona. The Story of Ferdinand was published three months after the war began. It was a powerful juxtaposition to what really transpired for the next three years in Spain.
Taken from "The Bittersweet Story of the Real-Life Peaceful Bull Who Inspired Munro Leaf and Robert Lawson's Ferdinand" by Maria Popova (https://www.themarginalian.org/2022/07/09/ferdinand-civilon/?).