For those of you celebrating Women's History Month, the website Book Riot has published "15 Books About Lesser-Known Women Who Made History" by Senjuti Patra. These non-fiction selections cover a broad range of time, from ancient Egypt to the modern era. Some of the titles that jumped out at me —
The Woman Who Would Be King: Hatshepsut's Rise to Power in Ancient Egypt by Kara Cooney —  Hatshepsut is the longest reigning female pharaoh (not queen) about whom little is known.
The Light of Days: The Untold Stories of Women Resistance Fighters in Hitler's Ghettos by Judy Batalion —  A chronicle of the extraordinary courage of Jewish women resistance fighters who are almost always forgotten in the historical narratives of this period.
The Unwomanly Face of War by Svetlana Alexievich — An oral history of Soviet women during World War II. These women who were at the front lines alongside men, as pilots, snipers, doctors, scouts, and so on.
The Woman Who Smashed Codes by Jason Fagone — I've read about the male codebreakers, but I've heard very little about women. Elizabeth Friedman was one such woman, a pioneer of modern cryptography who worked with the American government during both world wars. 
Sensational: The Hidden History of America's "Girl Stunt Reporters" by Kim Todd — In the 1880s and '90s, newspapers hired "girl stunt reporters" to uncover sensational stories. Even though their work often led to real social change and important conversations, their contributions were unappreciated.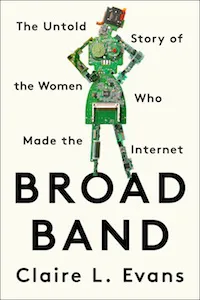 Broad Band: The Untold Story of the Women Who Made the Internet by Claire L. Evans — Who wouldn't be intrigued by this title? Women did play a big internet role, from early pioneers like Ada Lovelace and Grace Hopper to the many important but overlooked women who came later.
The complete list can be accessed at https://bookriot.com/books-about-lesser-known-women-who-made-history/?.