In the spirit of Halloween, have you ever heard of the Meguro Parasitological Museum?
If you haven't, that's understandable. First, it's a private research facility specializing in parasites. Second, it's in the Meguro Ward in central Tokyo, Japan.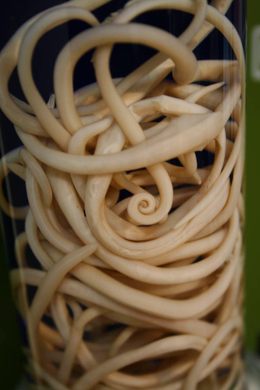 Founded in 1953 by Dr. Satoru Kamegai, the collection boasts over 45,000 immersed and prepared parasite specimens, including the world's longest tapeworm. The tour starts on the ground floor with large maps of Japan showing the locations of different parasites, and displays of parasites that infect animals. Things get more serious on the second floor, with parasites that infect us humans.
No matter what you think of parasites, they do fill an important biological function, like keeping potential pests under control. Also, they're actually not that big a threat to us; only 4% of known parasites can infect humans. The disturbing news is only an estimated 10% of all parasites have been identified. To read more about parasites and their important role in nature, see "New Studies Show How to Save Parasites and Why It's Important" by Michelle Ma (https://www.washington.edu/news/2020/08/03/new-studies-show-how-to-save-parasites-and-why-its-important/).
If you think you might be able to visit the Meguro Parasitological Museum, it's open 10 am to 5 pm, Wednesday through Sunday. It's also closed on New Years and other holidays. Admission is free, although donations are welcome. The website is https://www.kiseichu.org/e-top.